A massive thanks to everyone who came to the latest edition of the Fashion Debates at The Trampery Republic in London. We had an outstanding discussion about the mental health problem that we face in the Fashion and Creative Industries, with a panel led by Olivia Pinnock in conversation with designer Charli Cohen, Dr Jonathan Gander from The Haven + London and business consultant and facilitator Fabian Hirose.
Employees in creative careers such as fashion are 25% more likely to experience mental illness. Dr Jonathan Gander started the discussion by saying that "young people are amazing, that's why I like working in a university. But I do see vulnerability. The cost of [the creative industries] production is often hidden. It's not the money, it's often someone".
Designer Charli Cohen said that "the creative industry will either help with someone's mental health issues or actually worsen them" and "you can't complain about it, [because] everyone [else] is stressed. In fashion, it's [seen as] 'normal'".
Fabian Hirose added that "we [designers] need to give meaning to existence. We are trying to solve the problem for others, and we do so at the expense of ourselves". Cohen agreed by adding that "as a designer, you're expected to draw inspiration from your lowest low to create, and it's a lot of time to spend there."
For Dr Gander, the problem lies at the top levels of the industry: "when I meet successful people, what I often experience is the attitude that 'I went through this, I struggled, you have to struggle for it too'".
So, what can we do about it? How can we take better care of ourselves? As Olivia Pinnock explained, freelancers make up a significant portion of the workers in the creative industries. Without a support network, creatives can feel isolated and lonely, which contributes to developing mental health issues. But the problem does not only lie in the freelance community, almost 95% of creative industries businesses are micro-businesses (less than 10 employees), according to figures from The Creative Industries Federation.
"As a freelance, you need to set your own boundaries, even if it sounds counterintuitive", Cohen said. And Hirose added that "even if you're a company professional offering independent services, communities are very important. We need to form [supporting] communities to survive".
Apart from joining or creating supporting communities yourself, what other things can be done? "Keep the conversation going on every forum you can", Cohen responded. Dr Gander said that "professional help is available, don't be afraid to take it". And, everyone agreed with Hirose when he added that "it's an individual journey, there is no linear solution".
During the Q&A part of the discussion, the audience asked what can we do to detect if someone is struggling with mental health issues and, if so, how can we offer support? Dr Gander explained that "it's not something you can catch early and just treat it there and then. When you recognise it in someone, just be prepared for whatever can happen next, but don't force it". Hirose finished the discussion by saying "Vocabulary is very important", you have to be very careful with what you say to someone who you suspect is going through a rough time.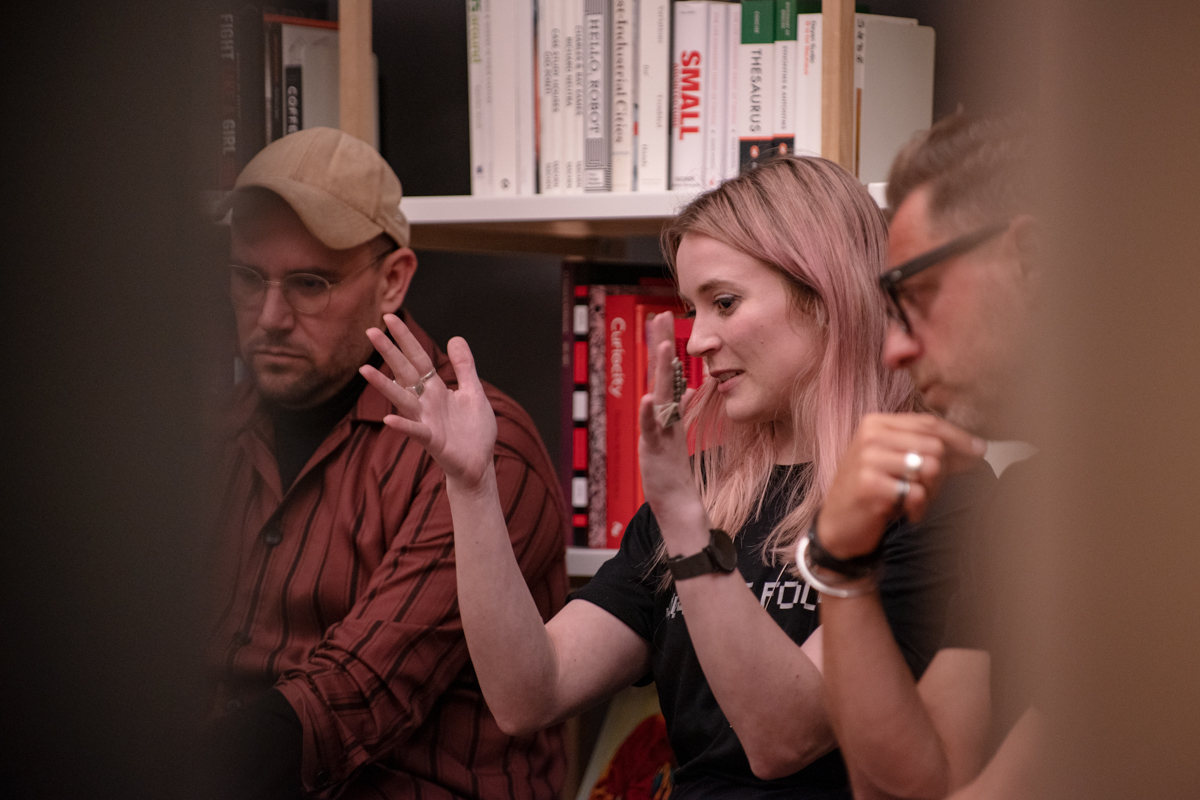 Thank you so much to everyone who came to be part of this discussion. Like Cohen said, we need to keep this conversation going. This is an industry formed by people who really love what they do, sometimes at the expense of themselves, as Hirose taught us. That is a high price to pay to keep businesses running, and it's the most expensive cost that the industry faces, paraphrasing Dr Gander.
Thanks to Olivia Pinnock for allowing me to be part of this beautiful event! If you haven't been to one of these discussions yet, learn more about The Fashion Debates on their website.
About The Fashion Debates
The Fashion Debates is a London-based event series run by fashion journalist Olivia Pinnock that explores ethical issues affecting the fashion industry. From sustainability, to diversity, to animal rights, and workers' rights, their aim is to make the industry as beautiful as the clothes it produces.
Photo credit: behind the scenes by Andrzej Gruszka.
Do you like what you just read? Subscribe to my weekly blog posts here!